This page highlights the differences between Henry the Green Engine and JDeguara.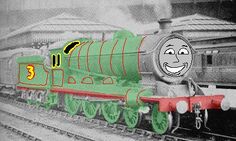 Differences
Edit
| Henry | JDeguara |
| --- | --- |
| Is an engine who often worries about stuff such as rain. | Was a YouTube troll. |
| Never said anything bad to Toad. | Was a troll to Felix Cheng. |
| Appears with two different shapes. | Was only shown in one shape. |
Ad blocker interference detected!
Wikia is a free-to-use site that makes money from advertising. We have a modified experience for viewers using ad blockers

Wikia is not accessible if you've made further modifications. Remove the custom ad blocker rule(s) and the page will load as expected.