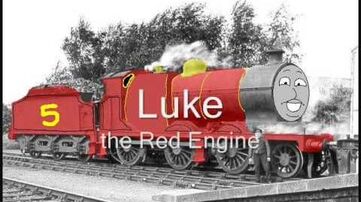 Kuno the Tank Engine 2, originally titled "More Kuno the Tank Engine Characters", was the second video in Felix Cheng's "Kuno the Tank Engine".
Songs Used
Edit
Characters
Edit
JDeguara as Henry
Billy806 as Gordon
Luke as James
Pervy as Percy
LeeClaxton as Toby
Pervy and Percy's names are similar since Pervy's name is Percy with the "C" being replaced by a "V"
Luke should not be confused for the green narrow-gauge engine of the same name that would be introduced into the show 5 years later. Sadly, the actual character named Luke never made it to KTTE so it's unknown who would have been him if the series lasted by the time he had been introduced.
Henry, Gordon, James, Percy and Toby being introduced in the second video of this series contrasts other people's spin-offs based on this as these characters usually appear in the first video of a series. However, this was the first spin-off series made, so other people just thought it would have been better for them to be introduced sooner.
Ad blocker interference detected!
Wikia is a free-to-use site that makes money from advertising. We have a modified experience for viewers using ad blockers

Wikia is not accessible if you've made further modifications. Remove the custom ad blocker rule(s) and the page will load as expected.