This page shows the differences between Oliver and SweetChick91.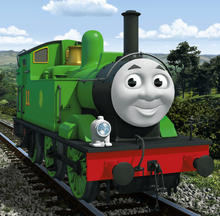 Differences
Edit
| Oliver | Sweetchick91 |
| --- | --- |
| Is male. | Is female. |
| Toad is his brakevan. | Is not related to Felix Cheng. |
| Shares his name with an excavator of the same name. | Is the only character in the series to be named as such, as Eli J. Brown's Dad has his own unique name. |
| Was believed by Marion to have been turned into a digger due to there being an excavator who was also named Oliver. | Marion was never adapted into KTTE. Even if she had, this situation would be impossible given how she and Eli J. Brown's Dad have different names. |
Ad blocker interference detected!
Wikia is a free-to-use site that makes money from advertising. We have a modified experience for viewers using ad blockers

Wikia is not accessible if you've made further modifications. Remove the custom ad blocker rule(s) and the page will load as expected.