This page highlights the differences between Sir Topham Hatt and LaxKid275.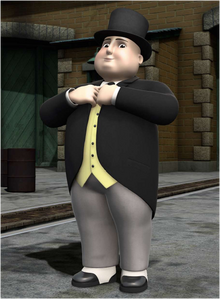 Differences
| Sir Topham Hatt | Laxkid275 |
| --- | --- |
| Is nicknamed "The Fat Contorller." | Is nicknamed "The Smoking Controller." |
| Is the controller of the North Western Railway. | Has no authority over YouTube. |
| Is the husband of Lady Hatt. | Is not (In real life) related to Graham Williams. |
| Had never said that Kuno the Tank Engine would get canceled. | Claimed that Thomas the Tank Engine would be canceled, but this was proven false as this was said during Season 11's run and by now, we have had 20 seasons. |
| Has always remained controller of Sodor. | Got suspended from YouTube. |
| Has a brother named Sir Lowham Hatt. | Sir Lowham Hatt doesn't have a KTTE counterpart. |
| Is an adult. | Appears to be a child. |
| Elizabeth was the first truck he drove. | No connections to Eli J. Brown. (They didn't even co-exist on YouTube.) |
Ad blocker interference detected!
Wikia is a free-to-use site that makes money from advertising. We have a modified experience for viewers using ad blockers

Wikia is not accessible if you've made further modifications. Remove the custom ad blocker rule(s) and the page will load as expected.