This page highlights the differences between Toby the Tram Engine and LeeClaxton.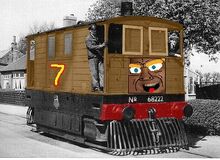 Differences
Edit
| Toby | LeeClaxton |
| --- | --- |
| Is a wise tram engine. | Was a YouTube Troll. |
| Has a coach named Henrietta. | No connections to Borakk1111. |
| Has never been mean to Toad, nor has he ever said that the Kuno the Tank Engine series was pathetic. | Said Thomas & Friends: New Engine Slideshow was pathetic. |
Ad blocker interference detected!
Wikia is a free-to-use site that makes money from advertising. We have a modified experience for viewers using ad blockers

Wikia is not accessible if you've made further modifications. Remove the custom ad blocker rule(s) and the page will load as expected.